The 39thCongress of International Society of Orthopedics Surgery and Traumatology SICOT
Published: 22.10.2018
---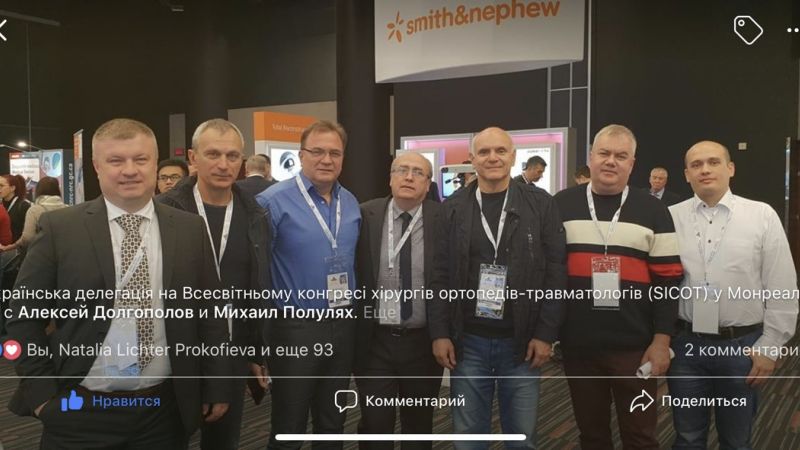 ---
Form the 10th to the 13th of October 2018 Ukrainian delegation of orthopedist-traumatologists of the SI ITO NAMSU: corr.member of NAMSU Strafun S.S.; Chief Medical Officer, prof.Gerasymenko S.I.; Chief of Scientific, Organizational and Methodology department, doc.med.sc. Dolgopolov O.V.; Senior scientific researcher of the Clinic №3, doc.med.sc.Poluliakh M.V.; Senior scientific researched of the Clinic №9, doc.med.sc. Strafun O.S. participated actively in the 39th Congress of the International Society of Orthopedic Surgery and Traumatology SICOT. In the year 2018 it was held in Montreal, Canada http://www.sicot.org/montreal.
The Congress has been attended by over 4000 participants from the whole world! Its program has been focused on the transfer of knowledge and devoted to the latest achievements of orthopedic surgery as in high-tech, as in low-tech environment. There were many sessions, symposiums, educational lectures and plenary presentations to illuminate the whole range of interests of orthopedics and progressive methods of treatment.
Wednesday, October 10, 2018
Workshop (Cadaver Lab)
8th SICOT Educational Day
27th International Course of Polytrauma Management
International Osteoporosis Foundation
SICOT Diploma Examinations
Thursday, October 11, 2018
Scientific sessions
Workshop (Cadaver Lab)
9th International Clubfoot Congress
Exhibition
Opening Ceremony
Friday, October 12, 2018
Scientific sessions
Workshop (Cadaver Lab)
Exhibition
Friendly meeting
Saturday, October 13, 2018
Scientific sessions
Exhibition
Closing ceremony
SICOT, International Society of Orthopedic Surgery and Traumatology(Société Internationale de Chirurgie Orthopédique et de Traumatologie) is an international non-profit association, incorporated under Belgian law with the aim to promote the advancement of the science and art of orthopedics and traumatology at an international level in particular for the improvement of patient care, and to foster and develop teaching, research and education. In year 2014 SICOT celebrated its 85th anniversary.
The current gathering of surgeons from 110 member nations and others,as each previous year,is a highly organized scientific, clinical and social event. Pleasure, expressed while meeting friends is excellent characteristic of the fruitful connections between the SICOT members.
SICOT is setting world standards of surgical competence – knowledge plus clinical skills – by offering an annual Diploma Examination comparable to those of exemplary institutions in highly developed countries. The two highest scoring graduates of this examination are awarded a travelling fellowship from the German Section of SICOT which provides a fully funded tour of the German center of excellence. The SICOT Journal, International Orthopedics, has shown steady gains of the Philadelphia-based publication reference rating. SICOT's Training Manual is there to guide trainees along a map of the goal of full training. The SICOT page and group on Facebook and the e-Newsletter are used widely for continuous communication among members and interested non-members. It shares words, announcements and communications of its members. The SICOT Fellowships offers unique opportunities for education and exchange. The SICOT Foundation works to provide funds for travel to congresses and to work with masters of surgery in notable teaching centers. Young Surgeons Seminars ensure forums for study from invited experts; one more advantage thereof is that they give young surgeons an opportunity to represent their own researchers to their colleagues.
An increasingly successful initiative has been the creation of orthopaedic Education Centers. They provide an opportunity for education, research and manual skills training. They are open to community surgeons, nurses and physiotherapists. In fact, they can bring a whole orthopaedic community together.
---
---
---
---
Other posts