Shoulder-joint arthroscopy
Shoulder-joint arthroscopy and closed reduction of acromioclavicular joint dislocation with fixing by Dog Bone Arthrex system and plastics of coracoclavicular ligament by m.semitendinosustendon

Published: 23.04.2018
---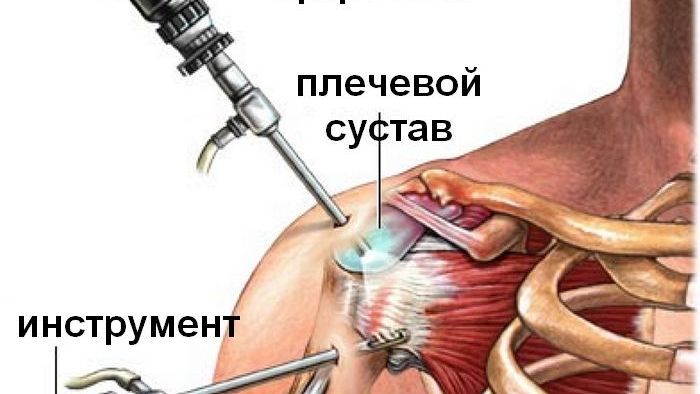 ---
SI "The Institute for Traumatology and Orthopedics by NAMS of Ukraine" has successfully implemented a new method for treatment of acromioclavicular joint long-standing dislocation – Shoulder-joint arthroscopy and closed reduction of acromioclavicular joint dislocation with fixing by Dog Bone Arthrex system and plastics of coracoclavicular ligament by m.semitendinosustendon.
Arthroscopic fixation of clavicle's dislocation in correct position is a minimum invasive operation, enabling to reduce the dislocated clavicle and to fix it in a correct anatomic position through small holes, as well as to avoid the next operation for removal of fixation means. This method of treatment, considering the diagnostic arthroscopy of shoulder-joint, being performed simultaneously, gives possibility of timely recovery and surgical treatment of possible concomitant pathologies of shoulder-joint (glenoid lip damage SLAP and Bankart and damages of shoulder's rotator cuff).
Indications for surgical treatment are:
long-standing acromioclavicular joint dislocations (trauma remoteness – over 2 weeks) types III, IV and V by Rockwood and type III by Tossy.
The movie represents surgical treatment of a patient with long-standing left acromioclavicular joint dislocation type III by Rockwood
Video Shoulder-joint arthroscopy:
---
---
Other posts