Strafun Alexander Sergeevich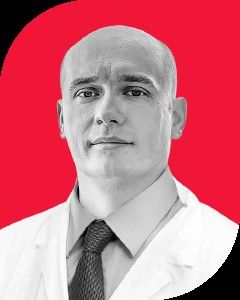 candidate of medical sciences
orthopedic and traumatologist

He masters modern technologies, intended for surgical treatment of shoulder, elbow, knee joints, and different means of renovation of tendons of shoulder's rotator cuff, glenoid lip of humeral articulation, knee joint's ligamentous apparatus, osteosynthesis, and microsurgical transplantation of complexes of tissues

work experience - more than 10 years
---
Contacts:
E-mail: o_strafun@ukr.net
Phone: +38 (068) 100-28-55
---
---
Strafun O.S. was born on March 12, 1982 in a family of doctors.
From 1998 till 2004 he studied General medicine at O.O. Bogomolets National Medical University of Kyiv.
In 2006 he passed internship in traumatology and orthopedics, and later won a competition for position of a junior scientific researcher in a clinic of microsurgery and reconstructive surgery of the SI "ITO NAMS of Ukraine".
In year 2009 he represented his Ph.D. research "Microsurgical Transplantation of Complex Vascularized Graft of Tibia Bone in Treatment of Patients with Defects of Long Bones Diaphysis". He is an author of over 50 published works, among them – 30 articles in scientific journals, 3 patents and 5 publications in international sources. He demonstrated his scientific achievements at lectures and congresses in Ukraine and throughout the world. He is a recognized scientist, an active member of such societies as International association of orthopedists and traumatologists SICOT, European association of shoulder and elbow surgery SECEC, Association of orthopedists-traumatologists of Ukraine. For many times he made his presentations at meetings of regional societies of traumatologists, international conferences and congresses. With his scientific lectures he visited the UK, Spain, Brazil, Poland, UAE, Canada, Russia. He is actively improving his knowledge and skills abroad, attending topical courses in Italy, UK, France, the Netherlands, Germany, Poland, UAE.
He masters modern technologies, intended for surgical treatment of shoulder, elbow, knee joints, and different means of renovation of tendons of shoulder's rotator cuff, glenoid lip of humeral articulation, knee joint's ligamentous apparatus, osteosynthesis, and microsurgical transplantation of complexes of tissues. He has personally performed over 1500 open and arthroscopic surgical operations. Now he is working over theoretical and practical elaboration of the methods of treatment shoulder and elbow joints' injuries and diseases, over improving methods of reconstructive and recovery treatment thereof.
Besides, during the recent 5 years, for the first time in Ukraine he performed implantation of biodegradable balloon OrthoSpaceInSpaceinto subacromial space, arthroscopic resection of osteophytes in thoracic  part of a shoulder bone in snapping shoulder syndrome, arthroscopic replacement of ligament defect of supraspinatus muscle using Arthrex DX ReinforcementMatri
Contacts:
E-mail: o_strafun@ukr.net
Phone: +38 (068) 100-28-55