Hordii Andrii Stepanovych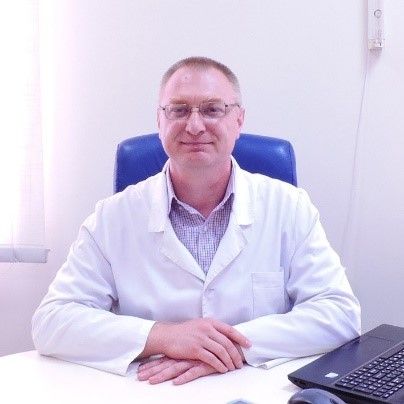 ---
He masters contemporary methods of prophylactics, diagnostics, and treatment in his and adjacent specialities
---
---
In 1996, he entered O.O. Bohomolets National Medical University, the 2nd Medical Faculty, and graduated in 202. After he graduated from the NMU, he passed internship training at the trauma care and orthopaedics department No.1 of the P.L. Shupik academy for post-graduate education (headed by Prof.Herzen H.I., MD) and graduated in 2004.
In 2004, after the competition, he got the position of a junior scientific researcher at the bone infection surgery department of the SI "ITO NAMS of Ukraine". He published 46 scientific papers in domestic and foreign journals, directly participated in preparing oral presentations for conferences of young scientists, meetings of the Scientific Council of the SI "ITO NAMSU", 3 congresses of orthopaedic surgeons; took part in 5 scheduled pieces of research of the bone infections department of the SI "ITO NAMSU". In 2011, he got a prize at the conference of young scientists of the SI "ITO NAMSU".
Nowadays, he is working on his PhD research "Garre's and Brodie Osteomitlitis: Diagnostics and Treatment" (under the supervision of Professor Hrytsai M.P., MD, Professor Hryhorovskyi V.V., MD). The dissertation is dedicated to the problems of diagnostics and treatment of Garre's sclerosing osteomyelitis and intraosseous Brodie's abscess. In many professional monographs and articles, he has thoroughly lighted methods for diagnostics and treatment of hematogenic osteomyelitis patients. At the same time, clinically atypical forms of hematogenic osteomyelitis appear only in rare messages as in domestic literature, as worldwide. This fact is predetermined by the low frequency of atypical forms, unclear pathogenesis, and the absence of efficient methods of treatment.
The basic objective of his works is to determine and establish correlative relations between the pathophysiological picture of the surgical materials of Harre's and Brodie's osteomyelitis patients and the results of visualization studies. It will enable a differentiated approach to this severe category of patients. Simultaneously, he masters modern surgical technics and conservative methods for the treatment of musculoskeletal pathologies.
He carries out surgical operations according to his level of qualification, is constantly improving practical and theoretical skills, and actively participates in scientific and practical conferences. He masters contemporary methods of prophylactics, diagnostics, and treatment in his and adjacent specialities.
In 2022, he came to the position of scientific researcher at the bone infection surgery department.
---