On 10th-13th of October 2018 Washington city (the USA) hosted the annual conference of the American Association of Neuromuscular and Electrodiagnostic Medicine
On 10th-13th of October 2018 Washington city (the USA) hosted the annual conference of the American Association of Neuromuscular and Electrodiagnostic Medicine (AANEM). https://www.aanem.org/getmedia/

Published: 23.11.2018
---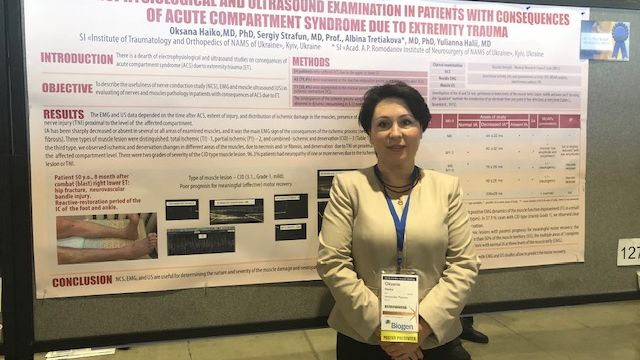 ---
The International Federation of Clinical Neurophysiologists each year provides financial support (grant) for 15-20 doctors of over 130 countries throughout the world to participate in the event. In this year 2018 such grant has been provided to the doctor from our institution – Gayko Oksana Georgiivna, dr.hab.med., head of the Functional Diagnostics Department of the SI "The Institute of Traumatology and Orthopedics by NAMS of Ukraine".
Program of the Conference comprised of lectures and workshops, sectional lectures and presentations, devoted to the most recent achievements in diagnostics and treatment of different neuromuscular disorders (radiculopathies, polyneuropathies, amyotrophic lateral sclerosis (ALS) etc.).
At the conference she represented two stand presentations: "Clinical-Electromyographic Peculiarities of Functional Recovery in Patients with their Radial Nerve Damaged after Radial Bone Fracture: Conservative and Surgical Treatment" and "Electromyographic and Ultrasound Examination in Patients with the Consequences of Post-traumatic Acute Compartment Syndrome of Extremities".
---
---
---
Other posts