A solemn celebration of the 100th anniversary of the ITO NAMSU
A solemn celebration of the 100th anniversary of the Institute of Traumatology and Orthopedics by NAMS of Ukraine took place on June 6th, 2019

Published: 24.06.2019
---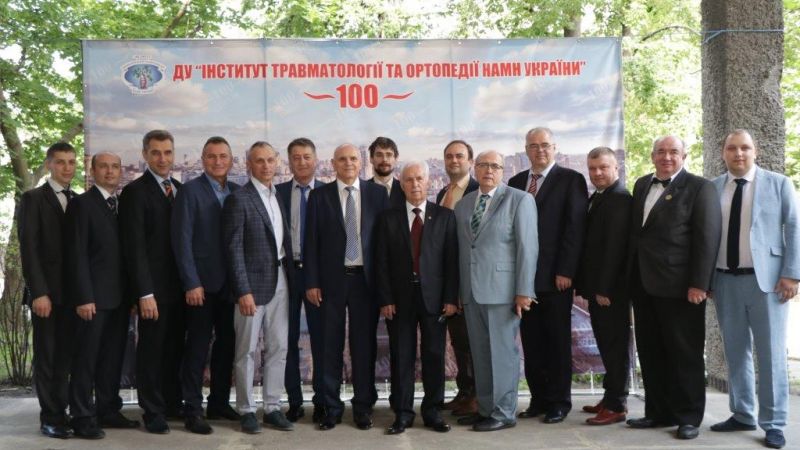 ---
A solemn celebration of the 100th anniversary of the Institute of Traumatology and Orthopedics by NAMS of Ukraine took place on June 6th, 2019. It was on 6th of June one hundred years ago, when the institution for specific aid to patients suffering from diseases and injuries of their locomotion systems was opened in Kyiv. Having passed quite complicated way from small "Disabled Children Home" and to the level of a leading academic Institute, it is now solving super-difficult scientific-practical professional challenges.
Team members of the Institute, colleagues, patients and special guests gathered themselves in the Institute's conference hall. Just to name a few, there were: the President of NAMS of Ukraine academicianVitaliiTsymbaliuk, the deputy interim minister of healthcare Roman Ilyk, the head of the Committee of Verkhovna Rada of Ukraine in charge of healthcare Olga Bogomolets. The President of Ukraine VolodymyrZelenskyi, the President of NAS of Ukraine Borys Paton, teams of orthopedists and traumatologists from different regions of Ukraine expressed their congratulations.
The jubilee has been honored by the visit of His Beatitude Metropolitan Epiphanius of Kiev and All Ukraine.
The long and glorious path of the Institute is a bright example of dedicated labor of its team, notable for its talent, selflessness, high standards, expertise and strong skills in overcoming obstacles, existing in any times.
Since founding, the Institute has brought up a pleiad of eminent scientists, whom our country is proud of and who are widely known in the world.
The Institute is famous for its fundamental and applied scientific-practical achievements in the theory of reparative osteogenesis, inflammatory and degenerative diseases of joints, denervation and re-innervation processes in muscles, development and implementation of brand-new methods of surgical treatment, original instruments, metal devices and technic of application thereof.
---
---
Official Members
---
Other posts