Spine Surgery Department with Spinal (neurosurgical) Center
Chief: Stashkevych Anatolii Trokhymovych
---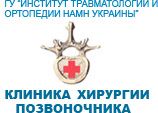 Address:

27 Bulvarno-Kudriavska Street
Kyiv 01601 Ukraine
7th floor

Phone:

+38(095)760-66-53 +38(044)486-23-99 +38(044)486-33-39

Website:

Other:
Working Hours:

Monday – Friday
9:00 a.m. - 05:30 p.m.

Consult Hours:

Wednesday

Surgery Hours:

Tuesday, Thursday
---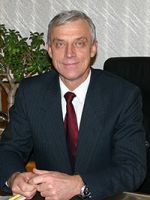 The department of spine surgery of SI "ITO NAMSU" develops and improves the methods of conservative and surgical injuries of spine, as well as congenital deformities of thorax (pectus excavatum, carinate, combined).
Widely used are decompressive-stabilizing operations using modern implants by Stryker (XIA-2, XIA anterior), Medtronic (CDH Legacy, BASIS™ , frontal fixation system Atlantis).
The developed methods of conservative treatment of spine using manual, magnetic therapy, methods of surgical treatment of pectus excavatum, carinate deformity of thorax.
Structure:
Department Chief;
Staff scientific researches;
Doctors;
Senior nurse;
Middle and junior staff .
Services of clinic:
The main focus of the clinic activities includes development and improvement of methods for conservative and surgical treatment of spine injuries and congenital thorax deformities (pectus excavatum, carinate, combined).
Staff member of clinic developed:
Modern methods for conservative treatment of scoliosis upon condition of educational orphanages;
Methods for conservative treatment of spine osteochondrosis using manual therapy, magnetic therapy, papainization of intravertebral discs by electrophoresis;
Methods for surgical treatment of pectus excavatum and carinate thorax deformities .
For treatment of severe forms of scoliosis correction operations with metal constructions are applied.
In cases of sponsylolisthesis, osteochondrosis, not-complicated spine traumas we widely use corporodeses with frontal approach and stabilization by bone translpantants and different metal devices (intra-body spondilodesis and transpedicular fixation).
For complicated injuries of all parts of spine we developed and widely implemented frontal, anteroposterior total decompressions of spine cord with further intra-body and posterior spondylodesis.
Having mastership of the whole range of operations, we practice differentiated approach to the method of surgical treatment to increase its efficiency. Decompression-stabilizing operations could be independent or a stage of complex surgical treatment.
The clinic performs one-, two- or several staged removal of tumors on different levels using bone-plastic and stabilizing operations.
On the basis of big amount of clinical observations, we developed classification of hematogenic spine osteomyelitis and system for complex treatment of purulent leakage, fistula forms, compression spinal syndrome.
We improved methodic of anti-bacterial therapy, apply modern methods, including less-invasive ones.
In the clinic patients with degenerative-dystrophic diseases and spine injuries with instability of spine-moving segment are operated using contemporary implants made by Stryker (XIA-2, XIA anterior), Medtronic (CDH Legacy, BASIS™, anterior system of Atlantis).
---
Doctors of this Clinic
---