Hip replacement
Experience – thousands of joint replacement operations

Published: 20.08.2018
---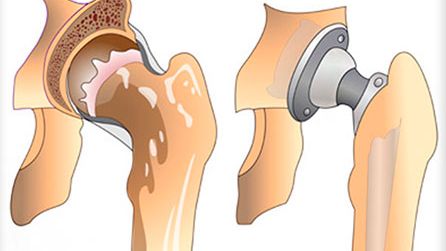 ---
Diseases requiring hip replacement:
fracture of femoral neck;
osteoarthrosis;
aseptic necrosis of femoral head;
rheumatoid arthritis;
ankylosing spondylitis (Marie-Strumpell disease);
systemic lupus erythematosis;
Frequently Asked Questions about hip replacement:
what type of prosthesis to choose (cement of cementless type of fixation);
what factors define functionality of prostheses.
Prostheses with cement fixation are mostly used for older patients. There are two reasons therefor: bone tissue of patients older than 80 years old is weakened due to osteoporosis. Besides that cement-type prosthesis enables patients to load the operated limb much earlier, than cementless one. This factor is of critical importance for older patients.
Prostheses with cementless fixation are intended for younger patients, whose bone tissue is quite strong. A disadvantage of cementless type of prostheses is limitation in loading on operated limb, in average till month and a half after surgery. If is required for bone tissue to grow into pores of the prosthesis and fix it in bone tissue.
Durability of the prosthesis depends on factors like bone tissue conditions, body weight and lifestyle of a patient, concomitant diseases etc. Revision operations are mostly needed due to loosening of its components due to overloading.
Hip replacement is contraindicated in following cases:
purulent infection;
cardiovascular diseases at the stage of sub- and decompensation;
noncompensated pulmonary diseases;
endocrine diseases at the stage of decompensation;
liver and kidney insufficiency;
exacerbation of severe chronic diseases of viscera.
In the Clinic of joint diseases of adults the patient shall pass extensive examination before surgery.
Experiences experts of the Clinic perform electrocardiography, and US examination of lower extremities' veins, if required.
Duration of hip replacement surgical operation
Surgical operation of hip replacement is ordinary cases lasts from 45 munities to 1,5 hours.
In complicated cases, e.g. in case of dysplasia or consequences of acetabular cavity injury, plastics of acetabular cavity is required. Such operation could last 2 -3 hours.
Before the operation a patient is prescribed a course for prevention of infections and thromboembolia; it should be continued after operation.
---
---
---
---
Other posts