Department for bone purulent surgery
Chief: Doctor of medical sciences, prof. Grytsay Mykola Pavlovych
---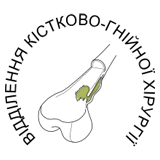 Address:

27 Bulvarno-Kudriavska Street,
Kyiv 01601 Ukraine
7th floor of Clinic building (left wing)

Phone:

+38 (044) 486-69-83

Website:

Other:

www.травма.net
Working Hours:

Monday-Friday
9:00-17:30

Consult Hours:

Thursday
9:00-14:00

Surgery Hours:

Monday, Wednesday
---
Chief of the department:
Is the author of over 200 scientific works, among them 2 monographs devoted to study of peculiarities of clinical development, search for methods and plastic materials for complex treatment of bone—purulent infection depending on genesis of pathology, its localization, age of patients and impact of chronic ionizing radiation on patients' bodies. Dr hab. Med., prof.
Grytsay Mykola Pavlovych
The clinic of bone-purulent surgery of SI "ITO NAMSU" performs the whole range of surgical interventions in osteomyelitic processes, purulent arthritis, septic complications, endoprosthesing of joints pursuant to the most modern methods.
The basic focus of activity of the department lays in study, improvement and implementation of modern technologies for treatment of the department's patients. During a year the department provided complex surgical treatment of complications after traumas and surgical interventions into locomotion system to over 300 patients.
Nowadays staff of the clinic consists of 6 scientists (2 doctors of medical sciences, 1 research assistants) and 1 doctor.
The department has 35 beds (also in rooms of special comfort), surgical room, re-dressing room, manipulation room and the required equipment.
Research and practical activities of the department:
Treatment of limb traumas consequences (deformities, shortenings).
Reconstructive-recovery orthopedic interventions after infectious complications, including those after osteosynthesis (surface, intramedullary, external).
Treatment of osteomyelitis of limbs by managed external osteosynthesis by Ilizarov.
Treatment of pseudo arthrosis, bone defects, fractures nonunion (with or with outskin defects), complicated and not complicated by infectious processes.
Treatment of hematogenic osteomyelitis in different localization, including nottypical formsin adults and children (Brody abscess, Harre osteomyelitis, tumor-like osteomyelitis).
Free and limited bone plastics in treatment of chronic osteomyelitis of locomotion system and adults and children.
Treatment of purulent arthritis.
Treatment of purulent complications after endoprosthesis treatment of joints.
Temporary spacering of big joints after purulent disorders (purulent arthritis, purulent complications after primary joint replacement with further revision joint replacement).
For treatment, nails and wire external fixation devices are widely used. Thanks to complex treatment we achieve success in reaching consolidation of fragments in reasonable terms, recovery of bone deformities, replacement of bone defects, extending limbs with correction of immune and metabolic statuses.
The clinic practices single-stage complex treatment of fractures nonunion and pseudoarthrosis of bones of extremities, complicated by osteomyelitis, allowing shortening the period of treatment in 1.5 – 2 times.
---
Doctors of this Clinic
---