Fishchenko Iakiv Vitaliiovych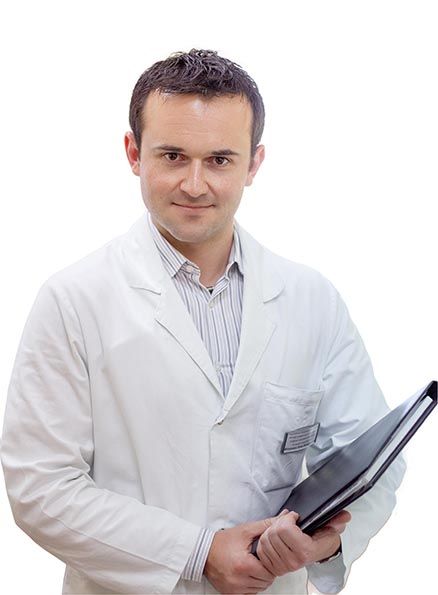 Doc.hab.med.
Doctor of highest category

Orthopedics and trauma care, neurosurgery

Professional experience – since year 2004

Leading scientific researches of the Clinic of Rehabilitation of the Institute of Traumatology and Orthopedics of the NAMS of Ukraine

Rehabilitation
---
Scientific studies: development of the new method for management of pain in spine and big joints.
Web-pages: www.spina.net.ua, www.voronka.in.ua, www.artroz.kiev.ua
---
---
Work focuses:
Spine diseases: conservative, interventional and surgical treatment of osteochondrosis, hernias and protrusions of intervertebral disks, spondyloarthrosis, stenosis of spine canal, sacroiliac joint syndrome, FBSS, tailbone pains.
Joint diseases: conservative and interventional treatment of pain syndromes in degenerative-dystrophic diseases of big joints.
Deformities of thorax: the leading expert of Ukraine in treatment of thorax deformities.
Over 600 respective interventions and surgical procedures are performed annually.
Titles, awards and membership in professional public societies:
Senior researcher since 2017;
Holder of the Award of the President of Ukraine 2018;
Diploma by the Presidia of the National Academy of Medical Sciences, 2013;
Vesalius Award by the American Neurosurgery Society (New Orleans, USA) 2013;
Scholar of the Cabinet of Ministers of Ukraine 2014;
Chief of the Young Scientists Society of the SI "ITO NAMSU" (2008-2015);
Member of the Scientific Council of the SI "ITO NAMSU" since 2016;
Valid member of international professional societies: Scoliosis Research Society, AO Spine, AAOS.
Author of over 140 scientific papers
Mr. Fishchenko has been trained in leading clinics of the Northern America (Salt Lake City 2011, Phoenix 2012, 2013, Toronto 2010, Charlotte 2014, 2017, Boca Raton 2014, Tampa 2016) and Europe (Prague 2011, 2012, Strasbourg 2013, Istanbul 2013, 2014, 2016, Munich 2018).
Methods of treatment applied:
Spinal injections with R-navigation;
Radio-frequency neuro-ablation;
PRP and MSK therapies;
Less-invasive surgical operations of spine and thorax.
Address::
SI "The Institute of Traumatology and Orthopedics by NAMS of Ukraine"; Chekhivskyi Lane 7, 4th floor, room 404.
fishchenko@gmail.com
To appoint a consultation:
(044) 221-08-30
(094) 821 08 30
Ask your question in Viber, WhatsApp, Messenger: +38 (050) 380-87-25
---