Borzykh Natalia Alexandrovna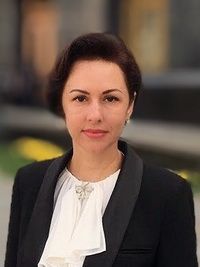 Doctor of Medicine
High level certificate orthopedist-traumatologist, doctor of the PRM

Head of the Department of Rehabilitation

Rehabilitation
---
Laureate of the State Prize of Ukraine in the field of science and technology
---
---
Experience:
In 2000 graduated from the Donetsk State Medical University named in honor of M. Gorky.
In 2010 passed Ph.D. defense thesis on the topic: "Surgical treatment of hand chondromas", in 2019 earned Ph.D. degree on the topic: "Surgical treatment of wounded with polystructural gunshot injuries of the upper limb and their consequences."
In 2019 achieved the rank of Laureate of the State Prize in Science and Technology for her work on combat trauma.
Direction of medical and scientific work:
Surgical, conservative treatment of diseases and injuries of the upper limb, gunshot wounds, preparation for surgical interventions, prevention and rehabilitation treatment of patients with diseases and consequences of injuries of the musculoskeletal system.
Author of over 70 scientific works, 5 patents, 3 monographs, methodological recommendations.
---