Laboratory of medical 3D printing
Published: 22.10.2018
---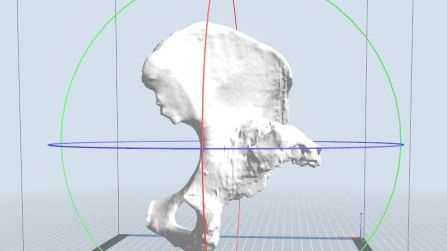 ---
Laboratory of medical 3D-printing
Open hours:
8:30-16:00
On holidays – upon primary appointment
Call us:
27 Bulvarno-Kudriavska Street,
Kyiv 01601, Ukraine
7 Chekhivskyi Lane,
Kyiv 01601 Ukraine
---
Using the modern 3D printer and specialized software, our laboratory creates models of anatomic structures in real size and proportions according to the information, obtained by CT and MRI.
Quality of manufacturing in under control of qualified orthopedist-traumatologist. All the required tools (cutters, drills, saws) allow the surgeon processing any ABS-plastics in any way. This technology provides the unique possibility:
To estimate the sizes and positions of the fragments in bone fractures and to perform "operation before surgery": perform reposition of the fragments, accurately choose and bend metal fixators for each certain case. This technology is especially useful in case of severe intraarticular and pelvic fractures.
3D modeling is also required for planning non-standard osteotomies.
Comminuted fracture of shoulder bone's distal epimetaphysis
Calcaneal bone fracture
Trans-acetabular scope of bone tissue resection in bone tumors
To assess resection volume in bone tumors.
Osteochondroma of iliac bone
To choose accurately the revision system, to define expediency of augments and bone plastics while planning complex and revision joint arthroplasty. On the basis of such model one could plan production of custom endoprosthesis.
Defects of acetabulum
Processing of a prototype by cutters
Simultaneous 3D simulation of pelvic vessels and bones, define their mutual location to evaluate the risks of surgical intervention, e.g. in case of the unstable acetabular component's protrusion into pelvic.
To trace visually the dynamics of intra-bone defects recovery, e.g. in case of aseptic necrosis of femoral head.
To improve understanding between the surgeon and the patient while negotiating the plan of future surgical operation.
To order 3D model we ask you to call our laboratory in advance to define the tasks of the model, send us your CT or MRI in DICOM format to our e-mail.
+38 066 160-24-74

+38 098 981-49-29
Production term of a 3D model – 2-4 days.
---
---
Other posts