Topical issues in treatment of orthopedic pathologies and consequences of traumas to locomotion system
Published: 23.09.2019
---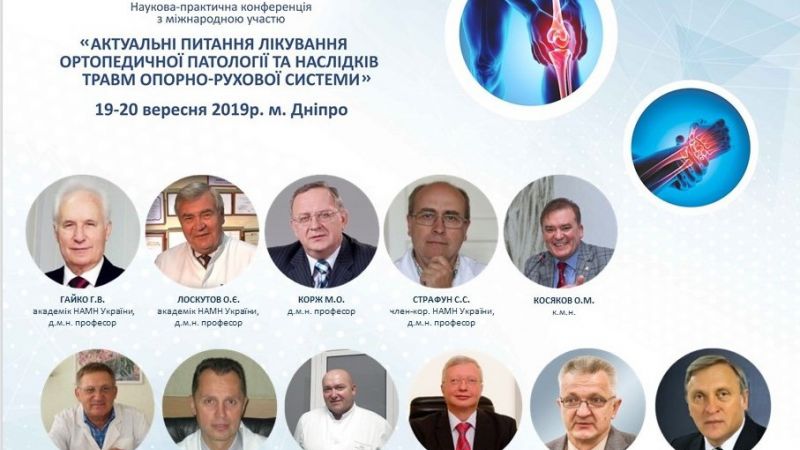 ---
The scientific and practical conference with foreign participants
«Topical issues in treatment of orthopedic pathologies and consequences of traumas to locomotion system»,
took place in the city of Dnipro on 19-20th of September 2019. It coincided with the 90th anniversary of the Department of Trauma Care and Orthopedics (scheduled for 2019, by the Register of Meetings, Congresses, Symposiums, Scientific and Practical Conferences, and Scientific Seminars of the HCM and NAMS of Ukraine).
Within the limits of the conference, the
IV UKRAINIAN SYMPOSIUM IN BIOMECHANICS OF MUSCULOSKELETAL SYSTEM
took place in the Cultural-business center MENORA, 4/26 Sholom-Aleykhem Street, Dnipro
MAIN TOPICS OF THE CONFERENCE:
The problematic points of joint arthroplasty;
Topical issues of the contemporary orthopedics and traumatology;
Biomechanics of the musculoskeletal system, joint arthroplasty, and osteosynthesis;
Surgical treatment of a foot and an ankle joint;
Bone osteosynthesis: problems of nowadays;
Topical issues of post-graduate education in traumatology and orthopedics.
https://armed.org.ua/trauma_2019_anons_ukr/
http://armed.org.ua/wp-content/uploads/2019/08/redakcziya_travmotologov_29_08.pdf
---
---
---
Other posts